info(at)anticopumps.co.in
Monday to Saturday(IST 08:00 - 17:00)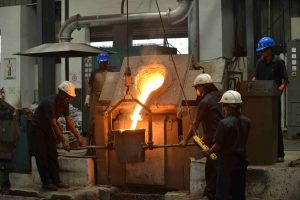 Company Overview
Antico has earned the status of industry leader through a combination of technology solutions, state-of-the-art infrastructure, unmatched after-sales support and reasonably priced products. We have more than 30 years of experience in non metallic end suction horizontal pumps for chemical applications.


We are based out of Mumbai with manufacturing facilities in Valsad, Gujarat – located strategically in India's chemical corridor. We have established a pan-India footprint with representatives and partners in all states of India. Chemical Process Transfer Pump Leader: As India's largest manufacturer of Non Metallic Chemical Process pumps, Antico's pumps deliver reliability ease of use and maintenance to more than 1000 companies in varied industries.


Antico pumps are used to process and transfer millions of liters of hazardous liquids every day, securely and efficiently.We serve with pride the smallest user to the largest conglomerate with reliable pumping solutions.
---
Kirit N. Shah.(1945-1990)
Born on 4th August 1945 into a Gujarati family from Rajkot.He was educated at Sardar Patel College of Engineering, Mumbai where he completed Mechanical as well as Chemical Engineering.


His father, Navinchandra Shah involved in active auctioning of consumer to industrial goods mooted the idea of manufacturing India's first Polypropylene Chemical Process Pump. Initiated early into the techniques of trade by his father, he travelled extensively, gained an innovator's outlook and set up Anticorrosive Equipment at Hind Service Industries, Shivaji Park, Mumbai in 1968


His attitude to manufacturing was well ahead of his times; manufacturing injection Moulded Non Metallic Pumps in 1973. His charismatic, disciplined & forward – looking leadership led Antico to new heights of achievements.